AusHealth® and Telix Pharmaceuticals partner to fight lung and ovarian cancer with APOMAB
AusHealth® is pleased to announce it has signed an agreement with Telix Pharmaceuticals to trial a new cancer treatment discovered at the Royal Adelaide Hospital in 2020.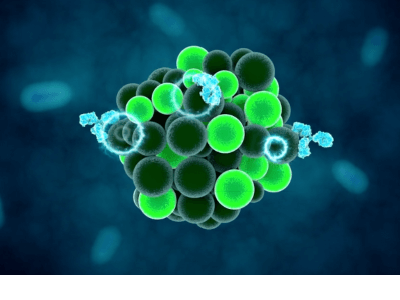 The partnership will fund a first in-human trial using APOMAB® antibody technology to evaluate targeted radiation delivery in cancer patients at the Royal Adelaide Hospital (RAH). Successful clinical development of this therapeutic approach has the potential to deliver clinical and economic benefit to South Australia, with an estimated AUD $33m in milestone and royalty payments upon successful commercialisation of the technology. The biology behind APOMAB® has the potential to, with lung and ovarian cancer the initial focus of the collaboration.
The research behind the APOMAB® technology was lead by Professor Brown at the RAH with support from AusHealth® Research (a division of AusHealth®). The technology works by using antibodies to target the La/SSB protein, which is only expressed by dying/dead cancer cells such as those found in patients that have been pre-treated with chemotherapeutic agents. Neighbouring cancer cells are then killed via a mechanism called 'bystander killing' that is typically delivered by a cytotoxin or radioactive "warhead", which in turn has the effect of recruiting the immune system into the cancer-fighting process. As such, APOMAB® has the potential to boost the efficacy of many existing cancer treatments.
AusHealth® Managing Director and CEO Greg Johansen stated, "Telix is a fantastic partner for AusHealth®, contributing their radiochemistry platform and expertise to the development of the APOMAB® technology. The combined expertise of Telix and Professor Michael Brown's world-class at RAH represents the best possible collaborative effort to bring this important technology to patients. This partnership is the culmination of almost a decade of R&D at RAH and represents the largest commercial deal for Adelaide-originating technology in the last 20 years."
Telix CEO Christian Behrenbruch said, "Targeted radiation has tremendous therapeutic potential in many different types of cancer. The APOMAB® approach may open up the door to using this treatment modality in several cancers that have not been the focus of traditional radiation oncology strategies. We are co-investing alongside AusHealth® to fast-track an initial clinical proof-of-concept in order to fully understand the clinical potential, as well as to understand how this technology may be used in concert with other Telix technologies currently under development. We have a high regard for Prof. Brown and his team, and are pleased to be supporting him alongside AusHealth® to bring APOMAB® to the clinic."
In 2018 there were an estimated 12,741 new cases of lung cancer diagnosed in Australia1 and in 2019, 1046 Australian women have died from ovarian cancer.2 These cancers currently have low survival rates – as low as 17%*. AusHealth® will lead the clinical activity at the RAH with the planned clinical study3 to test the suitability of APOMAB® to deliver low dose radiation to the tumour micro-environment using Position Emission Tomography (PET).
---
About AusHealth®
AusHealth® is a national Profit-for-Purpose company that supports the commercialisation of innovative medical technologies, improving the health of all through three divisions: AusHealth® Research, AusHealth® Work and AusHealth® Hospitals. All profits fund medical research and development of products and services that look to improve future of medical practice. Since 1985, AusHealth® has helped people with diabetes, joint damage, cardiovascular disease, and cancer; as well as improving burn & scar and foetal health diagnostics. Other commercial success stories by AusHealth® include Mesoblast (ASX:MSB), LBT Innovations (ASX:LBT) and Firefly Health. Visit aushealth.kinsta.cloud.
About Telix Pharmaceuticals Limited (ASX:TLX)
Telix Pharmaceuticals Limited (Telix) is a global biomedical company focussed on the development of diagnostic and therapeutic products based on targeted radiopharmaceuticals or 'molecularly- targeted radiation' (MTR). The company is headquartered in Melbourne with international operations in Brussels (EU), Kyoto (JP) and Indianapolis (US), Telix is developing a portfolio of clinical-stage oncology products that address significant unmet medical need in renal, prostate and bran (glioblastoma) cancer. Telix is listed on the Australian Securities Exchange (ASX:TLX). Visit www.telixpharma.com.
1 https://lung-cancer.canceraustralia.gov.au/statistics
2 https://ovarian-cancer.canceraustralia.gov.au/statistics
3 Subject to RAH Human Research Ethics Committee (HREC) approval and TGA Clinical Trial Notification (CTN)